Dr. Ingrid Larragoity-Martin, Conservatory Orchestra Conductor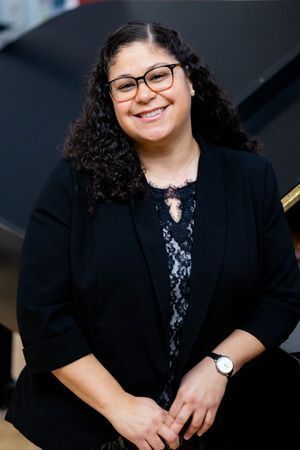 Dr. Ingrid Larragoity-Martin has been a conductor and instrumental music educator for over 20 years in public schools, collegiate settings, and symposiums. In the United States, she has led honor/all state instrumental ensembles in Florida, Georgia, Connecticut, New Mexico, Colorado, New York, California, Missouri and Texas. She has initiated programs with New World Symphony, San Francisco Symphony, and Colorado Symphony, connecting her ensembles to professional musicians and experiences.  Internationally, she most recently served as guest lecturer on The World, Residence at Sea, presenting lectures and conducting clinics throughout Europe. Dr. Larragoity-Martin also cofounded and led Jinsha Summer Music Festival, a musical and cultural program for music students from the United States and from the SiChuan Conservatory of Music in Chengdu, China.
Prior to her appointment as Conductor for the Conservatory Orchestra of DYAO, Dr. Larragoity-Martin served as director of bands at Skyline Visual and Performing Arts High School in Longmont, Colorado. Dr. Larragoity-Martin also served as Associate Director of Bands/Music Education Coordinator and then Interim Director of Bands at New Mexico State University. Before then she served as Associate Director of Bands at Henderson State University. In her time in these positions she conducted both wind and orchestral ensembles, commissioned and premiered repertoire, created innovative programming that crossed international borders, and collaborated with colleagues and community members to build substantive musical experiences.
Her passion to diversify and create inclusive music classrooms has impacted her leadership from the podium.  She serves as Chair for the National Bandmasters Association IDEAS committee, guiding the members of the organization to intentionally integrate curricula and repertoire programming that promotes diversity, equity, and inclusion in K-12 and collegiate rehearsal halls across the country.  Dr. Larragoity has served as a collaborator/mentor in this area, including the Iowa Bandmasters Association's project, to diversify curriculum throughout their state.
Dr. Larragoity-Martin earned her doctoral degree in Instrumental Conducting at the University of Colorado, a dual master's degree in Music Education and Instrumental Conducting from the University of South Florida and Bachelor's in Music Education from the same institution. During her tenure at University of Colorado, she was active in the new music community conducting several premieres for the Pendulum New Music Concert series and CU Wind Ensemble.