Ways to Give
Give Where You Play - It's Colorado Gives Day!
November 1-December 5 is the official timeframe for Colorado's biggest giving period all year round! Your gifts, both large and small, aid in our mission to expose young musicians and audiences to the joy and beauty of symphonic music, pursuing excellence through exceptional orchestral training, unique and diverse performance opportunities, and new pathways to symphonic experiences. 
There are great benefits to supporting DYAO. Your generous support allows us to make a difference in the lives of young musicians! Help us continue to orchestrate the future of symphonic music in Colorado - and beyond! 
Tempo Membership 
Stay in time with DYAO by joining the monthly contribution program. The Tempo Membership comes with its own set of unique perks including discounts on concert tickets and merchandise, early-bird promotions, and special invitations to private DYAO events! Check out the info below and schedule your monthly donation today! 
Start Your Monthly Giving Plan Now
Special Giving Opportunties
Save the Date: Hear the Future Gala - April 16, 2023
DYAO's 45th Anniversary "Hear the Future" Gala is April 16, 2023 at the Arvada Center for Arts and Humanities. Check back after the new year for more information on tickets and sponsorship opportunities! 
Corporate Giving
DYAO is proud to partner with corporate businesses, large and small, regional and national, who are passionate about music and education. We have special benefits available at different giving levels and are also happy to customize benefits for individual businesses for a more meaningful relationship. Check out the Sponsorship Page for more information or email Jon Bee (jon@dyao.org) with any inquiries.
Noteworthy Funds
Harold & Charleen Wippler Violin Scholarship Fund
Harold & Charleen Wippler were cornerstones of the musical community in Denver for many decades as gifted violinists in both the Denver Symphony and Colorado Symphony Orchestras. As one of the longest-tenured musicians, Charleen's dedicated and inspiring career covered a span of 50 years. Harold served as concertmaster of the DSO for many years. He likewise touched countless lives as an outstanding teacher and mentor, and continued to do so well into his eighties.
In honor of Harold and Charleen, the family has established a scholarship fund with the Denver Young Artists Orchestra, where many of Harold's students participated and enhanced their musical journeys. Both Harold and Charleen were advocates of musical opportunities, and Harold was also instrumental in starting the Denver Young Artists Orchestra. To celebrate and continue the Wippler blessing and legacy, the family welcomes donations to the Harold & Charleen Wippler Violin Scholarship Fund at the Denver Young Artists Orchestra.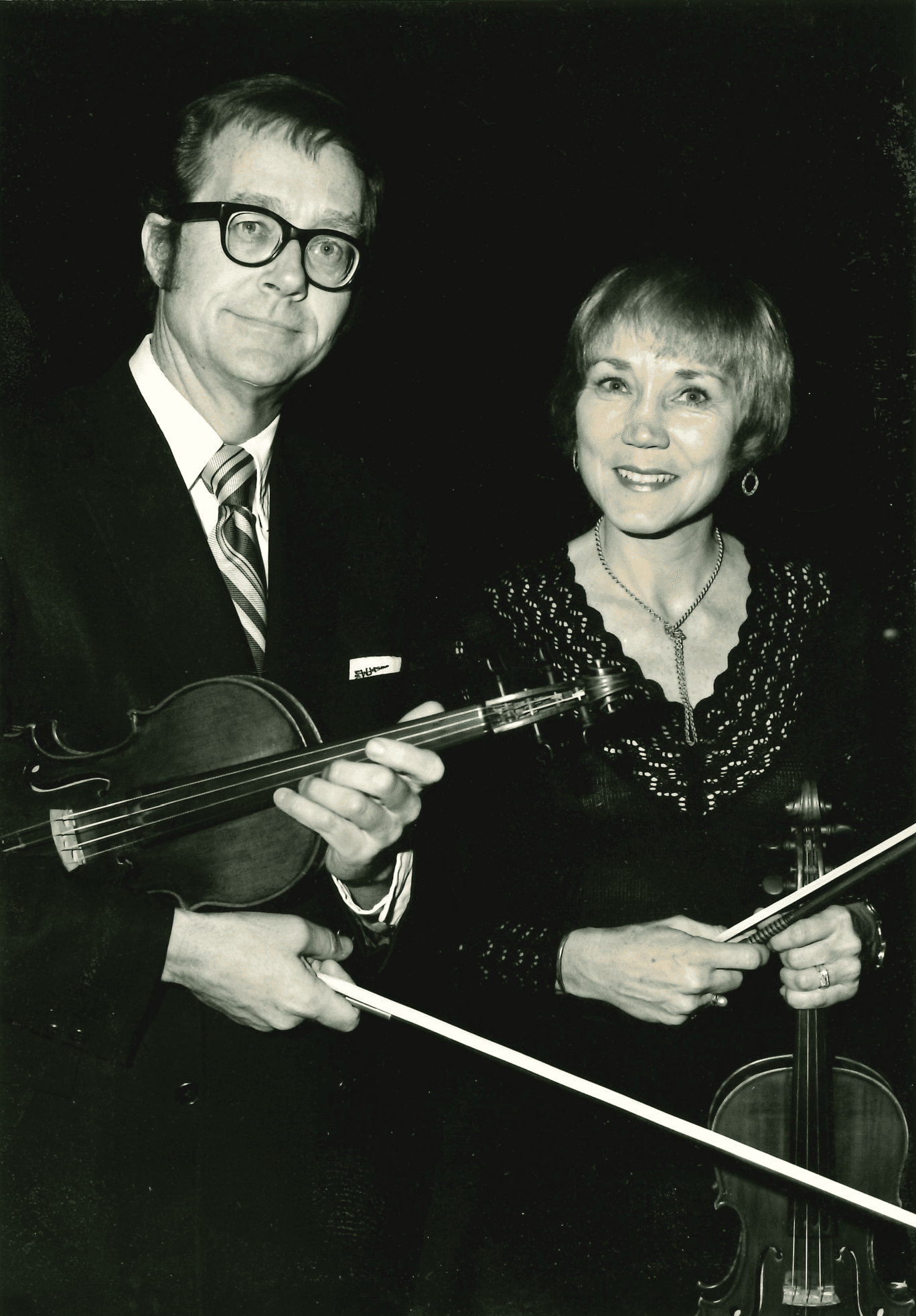 Other Ways to Give
AmazonSmile
Link your Amazon account with a chosen non-profit organization! Support DYAO by using smile.amazon.com and choosing the Denver Young Artists Orchestra. From the Amazon App, head to your setting to link DYAO to your Amazon app purchases. Please Note: If you link DYAO through your internet browser, it will not automatically link DYAO to your in-app purchases so be sure to link us both ways! 
King Soopers
Just like Amazon, you can link DYAO to your King Soopers account and our organization will receive a percentage of each purchase as a donation. You can do this through their website and in their app! 
Special Offer: Send a screenshot of your AmazonSmile and King Soopers accounts with DYAO as your chosen non-profit to receive a special promo on tickets to an upcoming concert! Send your info to jon@dyao.org.
In-Kind Donations
DYAO partners with individuals and business frequently through in-kind donations and sponsorships. Such donations include instruments, gala auction items and services, as well as food, beverage, and alcohol sponsorships for special events and more. If you have an item or service you would like to donate, or would like to speak with someone about potential food and alcohol sponsorships, please reach out to Jon Bee, jon@dyao.org.
Volunteer with DYAO
DYAO offers plenty of opportunities for individuals to give the gift of time. From office assistance to event management, we will never turn down a helping hand. Check out our Volunteer Page for more info!