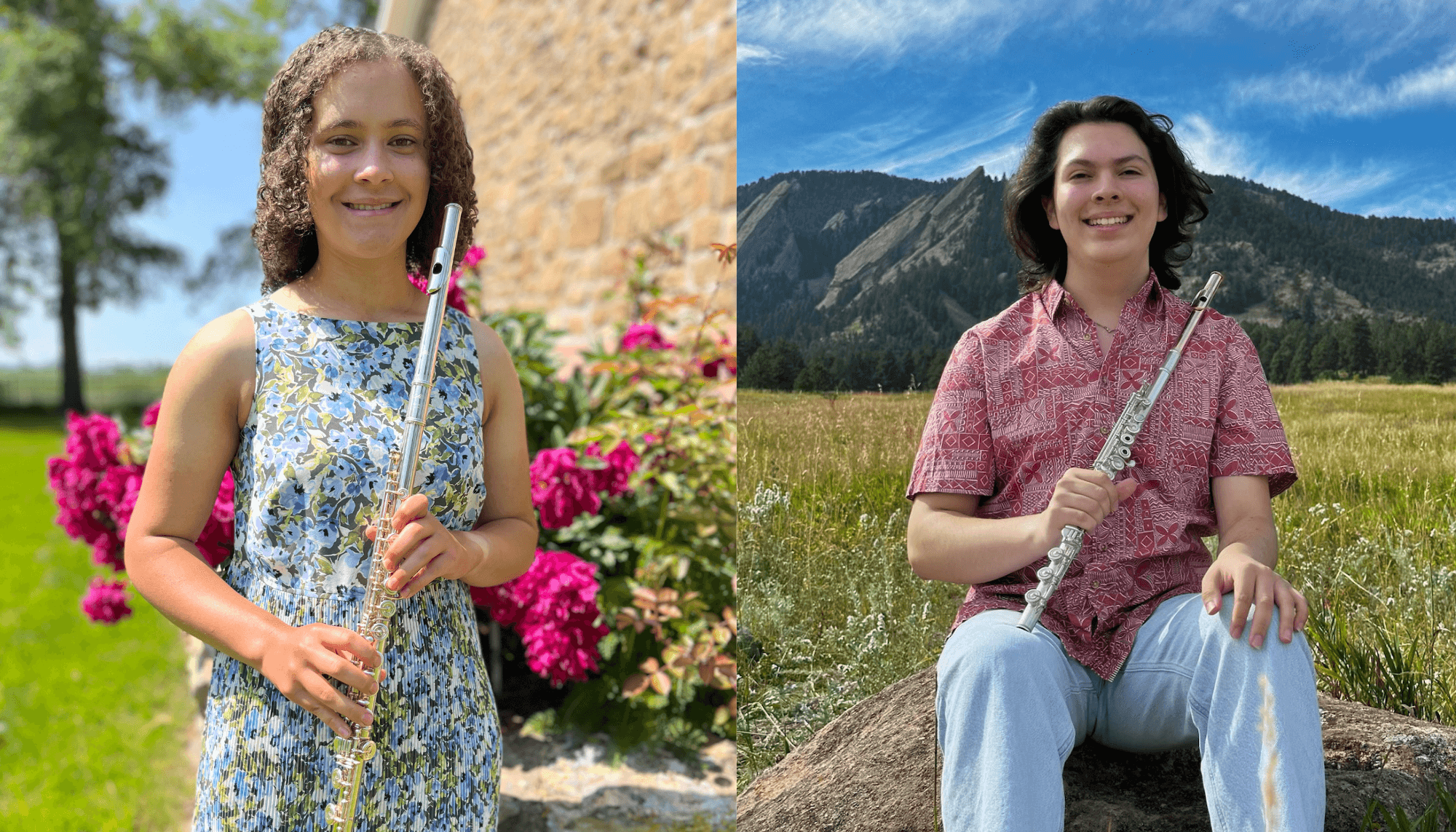 Please join DYAO in congratulating two outstanding young artists who have been chosen to perform their concertos at the BEETHOVEN'S EROICA concert on November 18 and 19, 2023! Josh Rascon, flute, and Lily Dinsmore, flute, will each take to the stage in what will be a musical memory to last a lifetime. Read more about these two incredible musicians below!
Josh Rascon, Flute
Josh Rascón is a Mexican-American flutist and cellist from Greeley, Colorado. He has been playing the flute for five years and currently studies with Brook Ferguson. A senior IB student at Greeley West High School, Josh is a devoted student and advocate in his local community. He currently serves as secretary of the Greeley Youth Commission, organizing literacy projects in underserved communities. Josh plans on studying music performance and environmental policy in college, and is interested in pursuing a career as an orchestral musician and environmental advocate. Outside of music, Josh enjoys reading poetry, yoga, baking, astrology, and spending time with his family.
Lily Dinsmore, Flute
Lily Dinsmore, a college freshman at Front Range Community College, has been a member of DYAO since 2021. Lily started taking flute lessons at the age of four-and-a-half from her former teacher Shirley Gilpin. She currently takes flute lessons from Cobus du Toit. Lily has been in music ensembles for nine years, and has had the privilege of holding several principal positions. In 2018, as principal chair of the Charlotte Symphony Junior Youth Orchestra, Lily was awarded for demonstrating a positive attitude, and outstanding leadership in the orchestra. While Lily was principal chair of the Youth Orchestras of Charlotte, the orchestra was invited to participate in the 2020 Capital Orchestra Festival at the Kennedy Center in Washington, DC where she performed the "Capriccio Espagnol" flute cadenza. In 2019, Lily was the winner of the Charlotte Concert Band Youth Concerto Competition. That same year, she had the honor of performing in a masterclass with Gorän Marcusson. Lily is currently pursuing a degree in nursing and hopes to one day be a pediatric nurse in the intensive care unit. Lily has always loved music and wants to always have it be part of her life. In her free time, Lily loves knitting, baking, skiing, hiking, and spending time in God's creation.