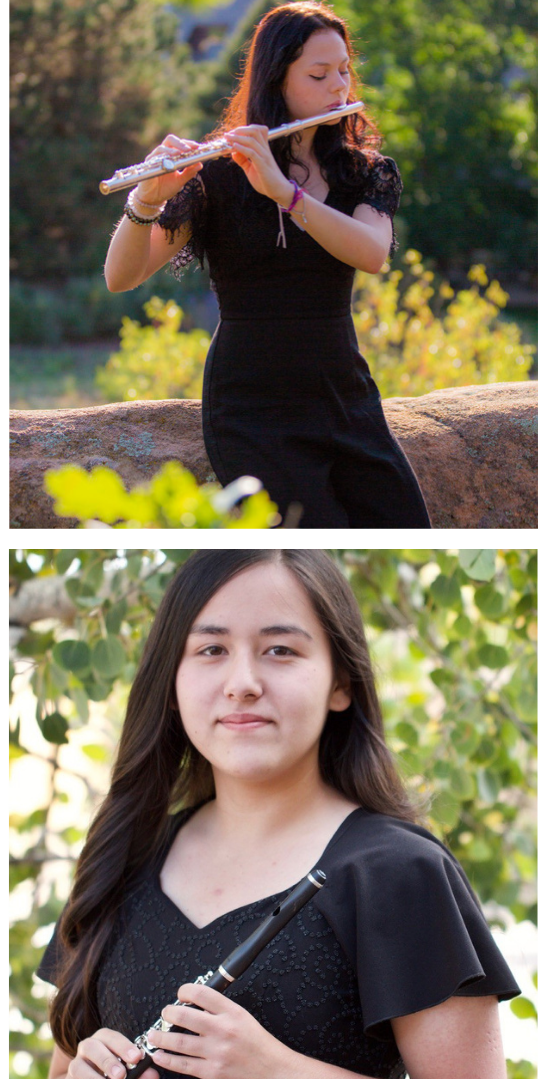 During this season's YAO Wind Concerto Competition, two winners were selected. Here is a bit more about them.
Tori Rognerud began playing when she was in the fourth grade, she became a musician when she was inspired by a mentor in middle school. Since then, she has performed in various ensembles, such as honor bands in Jefferson County Schools, as a performer and a soloist. She performed in statewide honor bands as well. Ms. Rognerud has also been selected as a soloist and section leader in her school's marching band received second place in Colorado Flute Association youth competition in 2018 and has been a member of DYAO for the past 3 years. Some include playing along with professional musicians, performing profound pieces of music, and traveling across the country. She studies under Brook Ferguson and Michael Williams. She is extremely grateful for being in this organization, which has offered so many opportunities.
Hana Flood is a freshman at the University of Denver, studying flute performance at the Lamont School of Music under Julie Thornton. She began playing the flute in 6th grade and piccolo in 9th grade and has studied under Sandra Tiemens since 2017. She graduated from Liberty High School where she was a part of the Wind Ensemble and a member of the Pride of the Lancers Marching Band, where they won the State Championship in 2016. She has been a participant in the All City Honor Band, CSU Honor Band, CU Honor Band, and All-State Orchestra throughout high school, and was selected to participate in All-State Band in 2020. Hana would like to thank her family and her teachers for pushing and supporting her to pursue what she
loves.
Both will be featured in our upcoming concert, Chamber Serenades.  Ms. Rognerud will be performing Charles Griffes' Poem for Flute and Orchestra and Ms. Flood will be performing Antonio Vivaldi's Concerto for Piccolo.