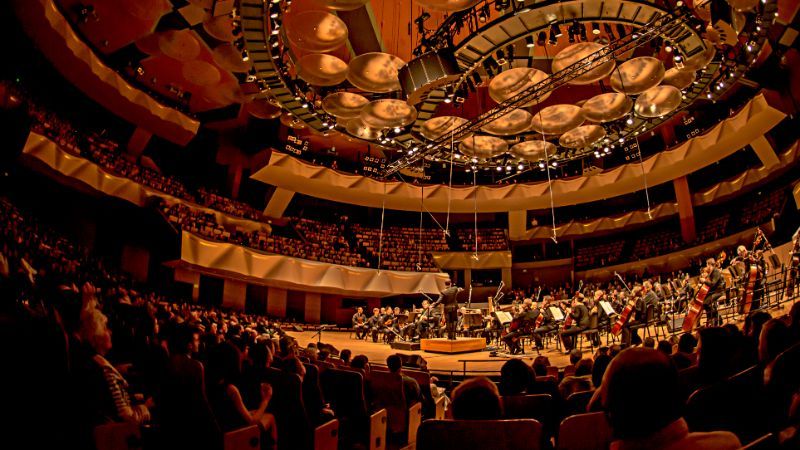 Feb. 16, 2020 – Denver Young Artists Orchestra and the Colorado Symphony join forces.
Jan. 30, 2020 – Denver, CO – The artists in the Denver Young Artist Orchestra are making musical waves this season, partnering with organizations like Tango Colorado, Parasol Arts, Phamaly Theatre Company, and the Colorado Symphony Association just to name a few.  These artistic partnerships are redefining what it means to be a young musician in a youth orchestra today.  As orchestras face challenges and continue to diversify their programming, the Denver Young Artists Orchestra musicians are taking center stage as they take on multimedia and collaborative efforts with gusto, propelling them to become the next leaders of the artform.
In their upcoming collaboration with the Colorado Symphony on Sunday, February 16, 2020 at Boettcher Concert Hall, the musicians of both orchestras will join forces side-by-side.  This annual partnership, is not just pros and young musicians sitting side-by-side, it is the transference of knowledge from one generation to the next.  Imagine being a basketball player and getting to play in the same game with Michael Jordan, this is the experience for the musicians of the Denver Young Artists Orchestra when they perform with the musicians of the Colorado Symphony.  The Denver Young Artists Orchestra is the only youth program in the state of Colorado that has this opportunity each year helping to launch students' careers and future aspirations. 
The concert will feature three classical music selections including Mussorgsky's Night on Bald Mountain, the Nielsen Flute Concerto, Mvt. I, and Mussorgsky's Pictures at an Exhibition.  Both Mussorgsky selections are brooding and full of thematic imagery taking the audience on an auditory journey through a dark mountain and vignettes of a gallery exhibition.  The Nielsen Flute Concerto will be performed by none other than Denver Young Artists Orchestra member and 2019 Wind Concerto Competition winner Arianna Tullis.  She is a young flautist from Steamboat Springs who is beyond dedicated to her craft.  Her family commutes every Saturday, three hours each direction, from Steamboat Springs to attend rehearsals to be a part of the Denver Young Artists Orchestra community. Students travel from across all regions of the state to participate in DYAO's award winning programs.
The Denver Young Artists Orchestra is thrilled to have developed the artistic affiliation relationship with the Colorado Symphony, now in its second year.  Through the artistic affiliation, the concert is featured on the Colorado Symphony's Family Concert Series.  Additionally, Denver Young Artists Orchestra students are able to attend concerts, work with industry professionals, participate in masterclasses, and receive mentorship by members of the Colorado Symphony.  This is a win-win for both organizations as we seek to build relationships for the next generation of symphonic music to thrive.
Tickets are available online at coloradosymphony.org or by calling the Colorado Symphony box office at 303.623.7876.  To learn more about the Denver Young Artists Orchestra visit dyao.org.
Event Information:
WHAT: Denver Young Artists Orchestra's: Pictures at an Exhibition | Side-by-Side with the Colorado Symphony
WHEN: Sunday, February 16, 2020 at 2:30pm
WHERE: Boettcher Concert Hall, 1000 14th St., Denver
TICKETS: $10 Child / $27 Adult, coloradosymphony.org | 303.623.7876